The Bishop Lavis Table Tennis Club (BLTTC) was established in August 1985.
Prior to the founding of the club, during April of the same year, a group of about 7 social table tennis players would get together at least twice a week to play in the double garage of Mrs. Slater, whose house was situated in 4th Street, Bishop Lavis, Cape Town.
Soon, the garage became too small for all players hence the idea to establish a formal club and join Western Province Table Tennis Union (WPTTU). A club delegation met with the WPTTU officials and presented their intention to formally become members of WPTTU. The aim of the club was to foster and promote non-racial table tennis amongst all interested persons.
Our club motto reads "Perseverance Wins"
The following year (1986), the club became a bona fide member of WPTTU due to the fact that the club was founded during the apartheid years. WPTTU and its national mother body, i.e. The South African Table Tennis Board (SATTB), who were both members of the South African Council Of Sport (SACOS) held and believed in the tenet that there can be no "Normal Sport in an Abnormal Society" and hence the separate sports bodies that existed at that time.
The club underwent a split in 1994 as a result of the turmoil in the sports struggle during that era. The remaining members participated in only 2 leagues and the rest became dormant. After a period of almost 11 years, two of the club members; (Denver Titus and Henry Esau), decided to revive the club and re-introduce formal training, meetings and league participation. The club attracted young people from the local community and adjacent areas, some of whom have gone on to become Provincial and National Champions.
In 2016 Club members were aware that while league matches were won and champions were being made the club lacked scale, scope, vision and direction! 2016 therefor saw the development of an exciting new vision for the club and 'Turning Tables – Developing our Youth through Table Tennis was born!
To become a leader in South African Table Tennis through; the promotion and advancement of our sport, delivering inclusive grass roots to elite player table tennis programs while incorporating an educational, health and life skills program.
To organise, develop and implement innovative table tennis development and life skills programs and events through table tennis. To provide the opportunity for all level of players, particularly youth, to develop their potential, be valued and recognised for the positive things they achieve and become role models in the community.
Rhiyaan Cupido - Chairperson
Thabiet Adams - Vice Chairman
Henry Esau - Secretary
Zulfa Meniers - Trustee
Zahier Mohamed - Finance
Sharron Harrison - Assistant Secretary and Program Manager
Yunus Moyce (Detaila & photo for follow)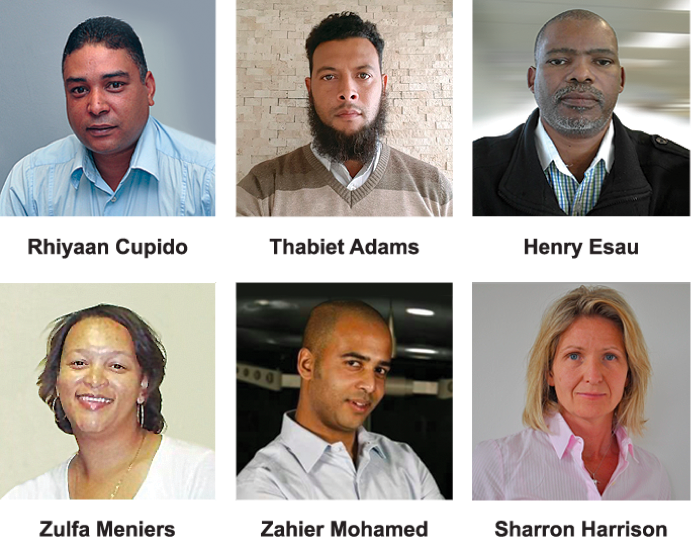 Club membership has increased since 2016 from an average of 15 to now over 40 as a result of the BLTTC development plans. The age range of club members is between 11 – 55 with the majority of members being male and in the junior sector. While this is a significant achievement in the last year, there is still much work to be done to continue to develop and expand a more inclusive membership base, retain members and monitor attendance and development.
Bishop Lavis Sports Complex, Lavis Drive, Bishop Lavis, Bishop Lavis, Western Cape, South Africa. (See Contact Us for Map.)
Monday, Tuesday and Thursday 2.30 – 5pm
Saturday Mornings – 8.30 – 1pm
Tuesday and Thursday 6.15 – 10pm
National Team


Junior League Team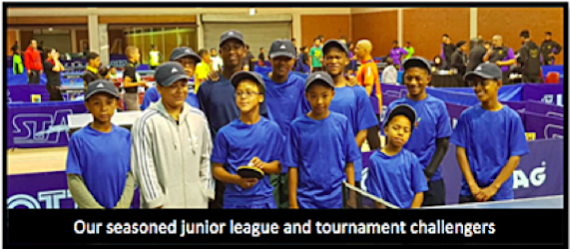 We have a handful of social club players and 20 registered Senior League players with one team in the Premier, 1st, 2nd, 3rd and 4th Western Province League. There are 4 Junior League teams comprising of 16 registered junior players playing the A, B and C League. Furthermore, we have 15 new beginner 2018 junior players who do not participate in the junior league. They hail from schools in the Bishop Lavis and adjacent areas.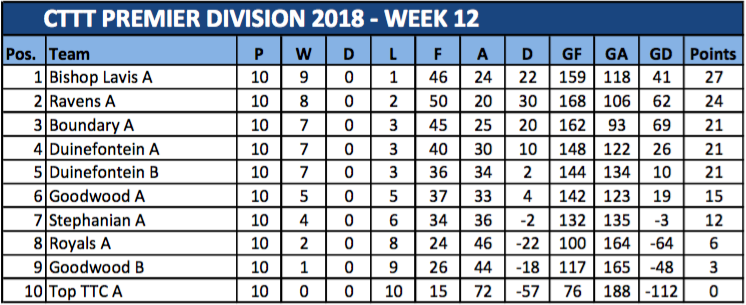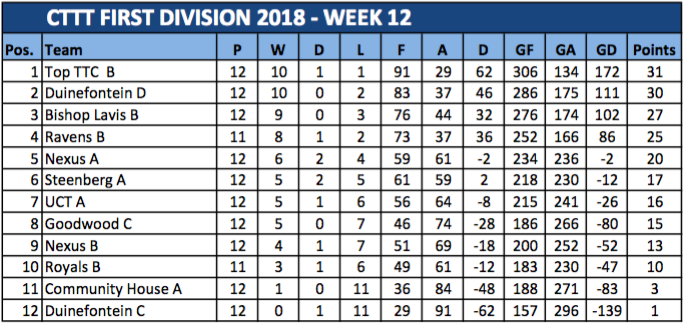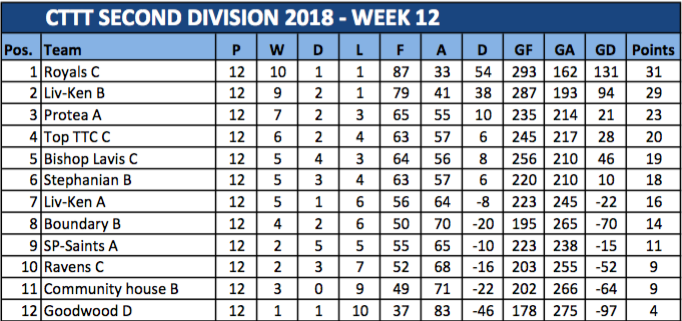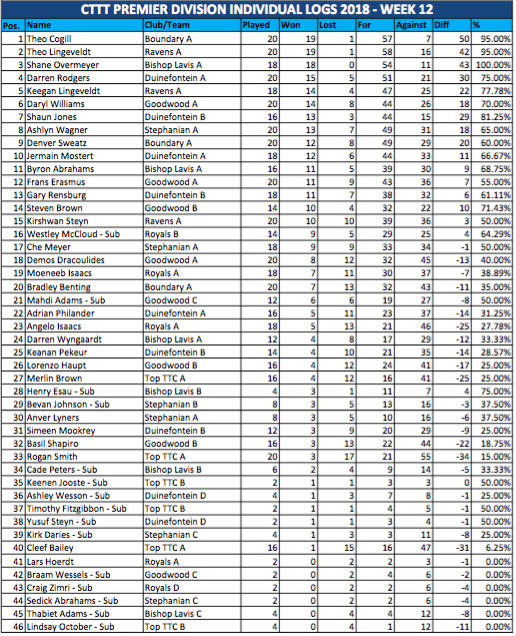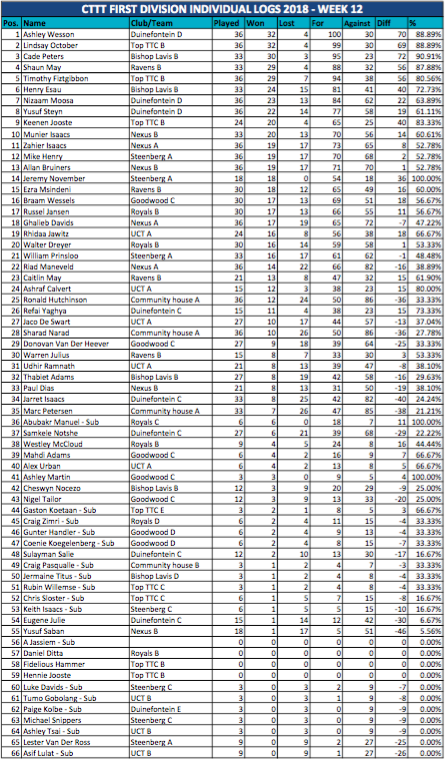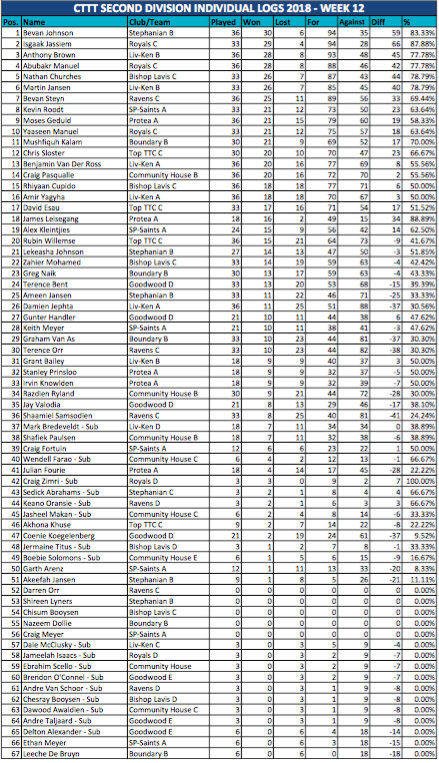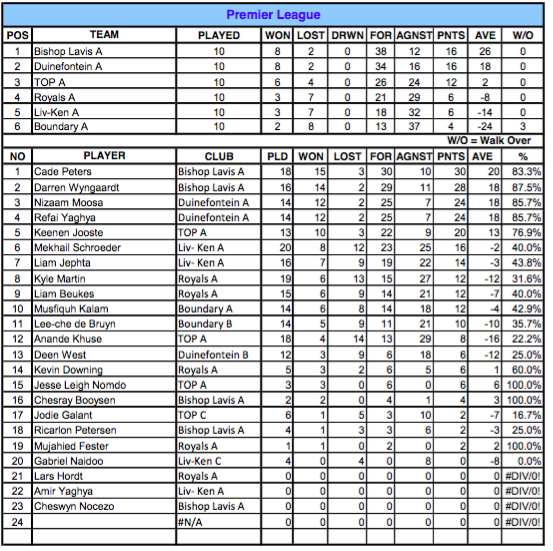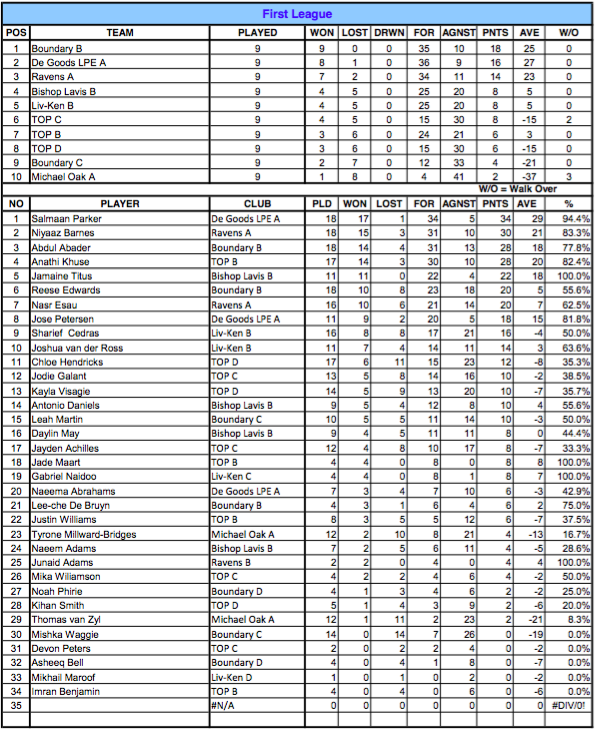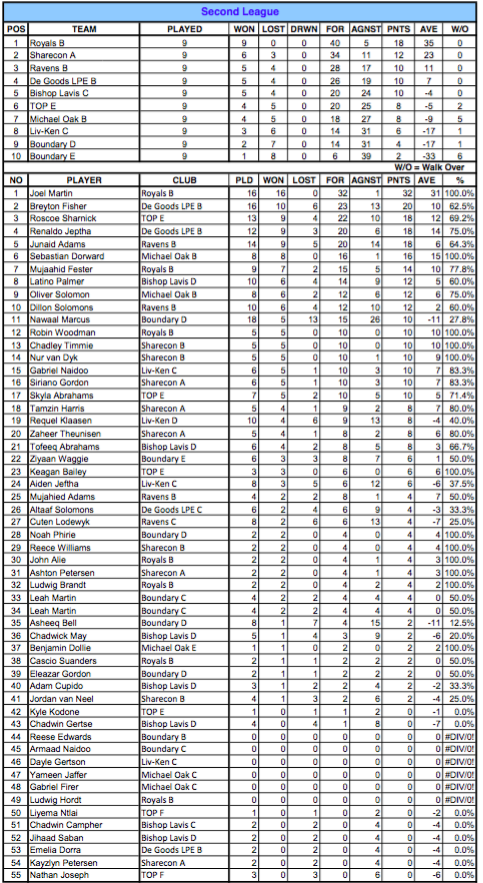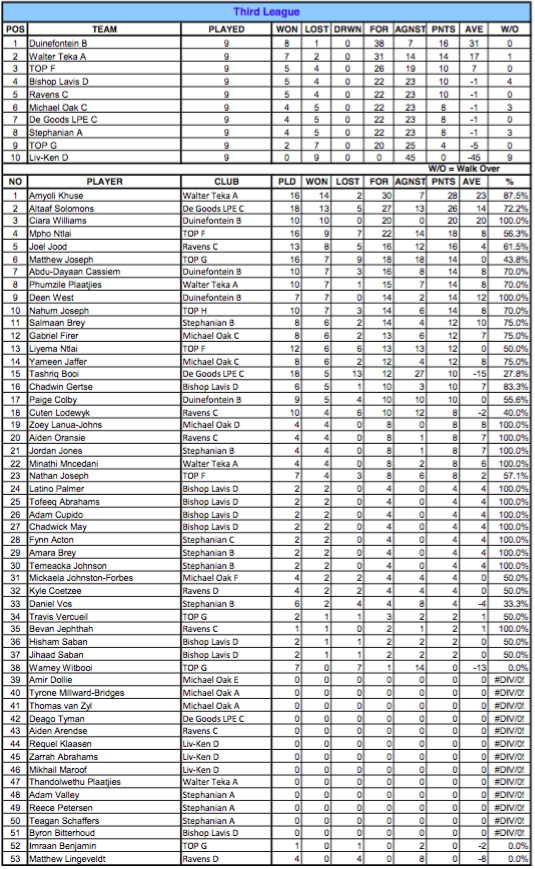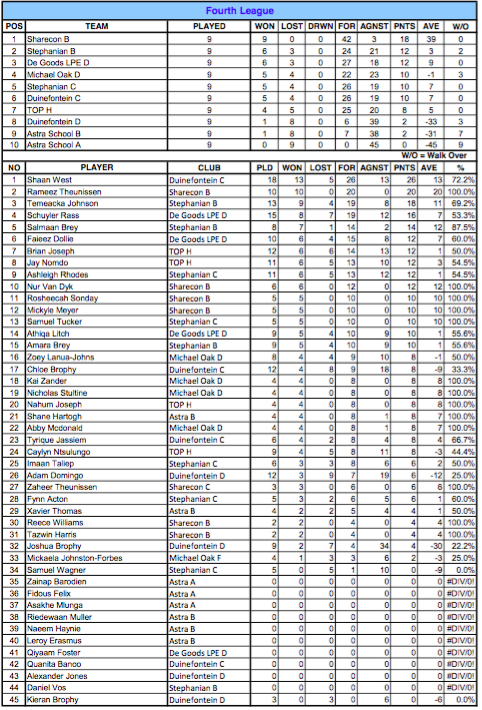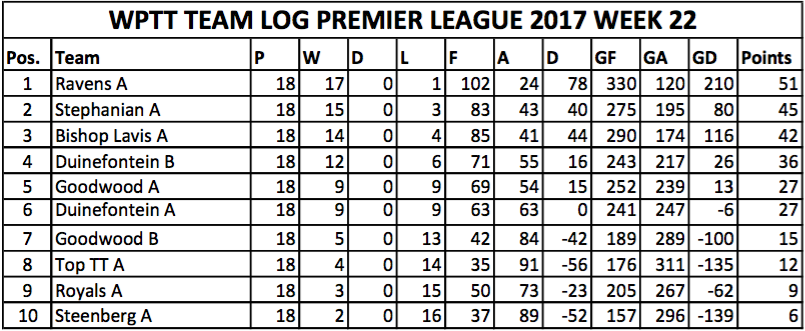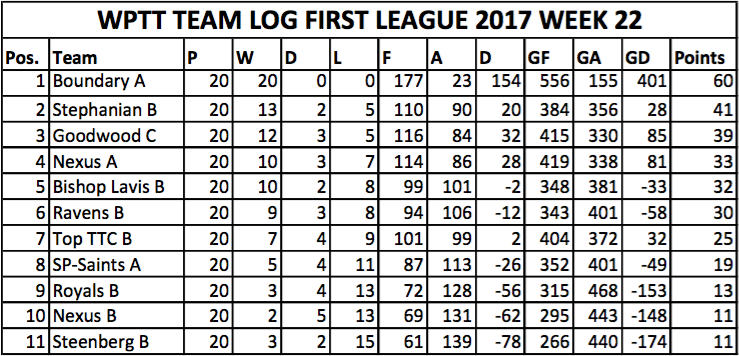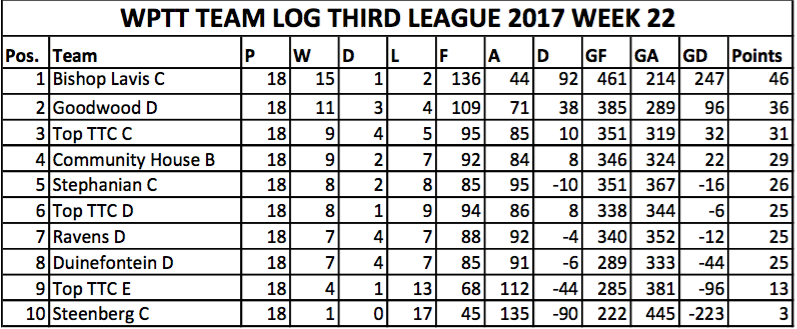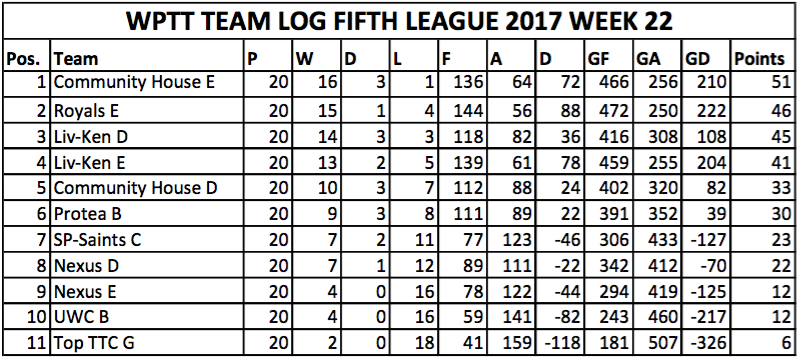 2017 WPTT LEAGUE FINAL INDIVIDUAL RESULTS